Sandoval vetoes Dems' reapportionment plan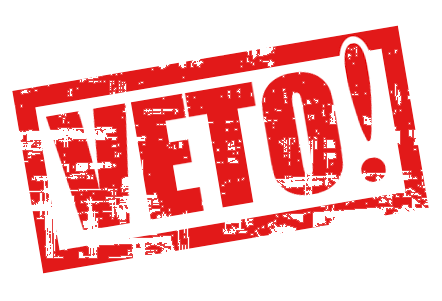 On Saturday, Governor Brian Sandoval officially vetoed legislative Democrats' redistricting plan, as embodied in SB 497. The veto message was just read on the Senate floor this morning. Here is the key passage:
This bill relates to the revision of legislative and Congressional districts in our state. In my State of the State address, I said that legislative and Congressional districts should be drawn for a fair representation of all constituents-and that they be consistent with the law. This bill fails to meet both standards.

In 1965, Congress passed the Voting Rights Act ("the Act"). The Act prohibits states from using the redistricting process to dilute the voting strength of minority communities. In doing so, the Act ensures, consistent with my call at the State of the State, that lines of representation be drawn to afford minority communities equal opportunity to elect representatives of their choice. The central mechanisms by which the Act ensures such outcomes are simple: no fracturing and no packing of such communities.

The redistricting plan reflected in this bill does not comply with the Act. In the last ten years, the Hispanic community in our state has grown significantly. Indeed, recent Census figures reveal that one in four Nevadans are of Hispanic decent. The law and common sense-requires that we recognize this fact and afford Hispanics an equal opportunity to elect representatives of their choosing.
For NPRI's coverage of the redistricting debate, see Kyle Gillis's investigative reporting on the topic.